Netfirms.com Review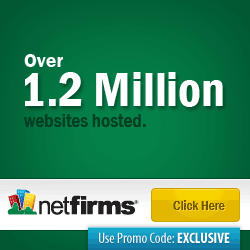 Netfirms Introduction
Netfirms is a web hosting company dedicated to small businesses. It offers a compact range of options for shared hosting with unlimited disk space and bandwidth and currently hosts 1.2 million websites. Evidence suggests once offered more advanced plans, but these are difficult to locate on the website without extra help from a Google search.
The company was founded in 1998 and Thomas Savundra sat as CEO until the company was bought out by Endurance International Group in 2011. As such, it's now part of one of the largest hosting corporations in the world, and the majority of its operations are US-based.
Netfirms Hosting Plan
As mentioned in the introduction, it seems Netfirms once offered VPS hosting, free hosting and possibly more, but as these services don't appear to be obviously available, we'll concentrate on the four main plans which are all Linux shared hosting services.
Netfirms splits its plans into three: Advantage, Plus and Business. On the website, the Plus plan is presented in between the other two, but it's actually the least capable (and cheapest), so be aware of this when you're comparing side by side.
The features on each plan scale up depending on the option you choose. All offer unlimited disk space and bandwidth. The lowest cost Plus plan offers one free domain name, the medium plan offers two and the highest cost plan offers five free domains. This top level plan also provides the customer with their own SSL certificate.
Apart from that, the plans are pretty similar. MySQL databases are very restricted on the cheapest plan, as are FTP accounts, although there would arguably be enough to go around for an average small business site. Strangely, subdomains are chargeable on all plans, and they don't seem to be particularly well priced.
Netfirms Uptime/Downtime
Netfirms owns and operates its own data centre, according to the website. TheiTier 1 facility includes 40,000 servers, and they utilise clustering for protect against downtime. No further details are provided about the technical team or infrastructure.
In addition, Netfirms' support centre unhelpfully states that "all plans include uptime". There are no figures to suggest a promise on the amount of uptime you'll get, nor is there any information in their Terms of Service, so we'll have to assume there is no uptime guarantee.
Netfirms Support
Netfirms offers round-the-clock support to all customers. However, customers on the top tier plan are given priority.
The company has a press release section which hasn't been updated for almost two years. Visibility via the Facebook page is patchy; positive comments tend to receive replies, but critical comments don't appear to receive the same attention. The Twitter feed is regularly updated in response to customer queries.
It's not clear where the support department is based, although they provide a US toll-free number. That doesn't necessarily mean the team is US-based, though.
Netfirms in the News
Having scoured the web, I didn't find anything negative in the press about Netfirms. We can therefore assume it's relatively free from controversy.
Netfirms Control Panel
On the Netfirms support portal, there's plenty of reference to Plesk. However, I found no evidence that Plesk is still used, as all signs point to vDesk. They certainly don't make any boasts about the control panel they use, and no references to Plesk appear on their current plans.
As the support information appears to reference a control panel that no longer exists, it was difficult to find information about vDesk on the site. We can only assume that vDesk is not the same as vDeck, although the site mixes both terms so it's difficult to make a call.
Netfirms Extras
● The most basic Netfirms shared hosting plan, Plus, comes with two free domain names. The lowest price plan, Advantage, offers one, and you can claim up to five free domains on the Business plan.
● All new clients receive $100 Google Adwords credit, $50 Facebook Ads credit, $25 for Yahoo!/Bing advertising plus a free listing on yellowpages.com.
● New users can use Ready-to-go-Websites, a drag-and-drop site builder, and a one-click app installer. Common applications like WordPress and photo galleries can also be set up with a click.
Netfirms Money Back Guarantee / Cancellation Policy
A 30-day guarantee is promised on the Netfirms website, although it's difficult to find the terms and conditions at first glance. Again, I had to Google to find a page on the site that explained it.
Customers can claim a refund if they cancel within 30 days, regardless of the length of plan they offer. There's no information about how refunds should be submitted or whether admin and domain name fees are deducted.
Netfirms Summary
From the research I did about Netfirms, it seems like the company has been slimmed down considerably over the last two years. This may explain why content in the help centre is out-of-date or innacurate.
Additionally, the pricing pages on the Netfirms website is quite misleading. The Plus plan is the cheapest and least capable but is laid out in the centre of the comparison tables; due to the name and positioning, I assumed it was an upgrade on Advantage, but it's not.
The general lack of information and conflicting help material didn't fill me with much confidence, and I feel there are better website hosts in this sector. Having said that, their social media pages are active, their website is professional and the company is obviously still attracting custom.
---