westhost.com review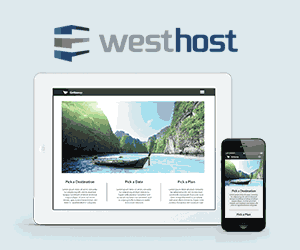 The company was set up in 1998 and was acquired by UK2 in 2008. It's part of Hosting Services, Inc, and shares its headquarters in Utah with AN Hosting and Midphase. Notably, half of its employees are multi-lingual, and half have more than 5 years' experience in the IT industry.
WestHost Hosting Plans
● Shared web hosting is split into three plans: Personal, Preferred and Business. The Personal plan is the most limited at 50 GB disk space, 1000 GB bandwidth and 1 database; the top-end Business plan is largely unlimited. Preferred customers receive a free domain, and Business customers receive a free domain and free SSL certificate.
● Cloud hosting is split into three plans: Burst, Storm and Monsoon. The lowest cost plan, Burst, comes with 20 GB disk space, 500 GB bandwidth, a dedicated IP, 1.2 GHz processor power and 752 MB ram. The top-end plan comes with 2250 GB bandwidth, 90 GB disk space, 4.5 GHz processor power and 3384 MB RAM.
● Dedicated servers are available on managed or unmanaged plans. There's a handy side-by-side comparison chart for both types of dedicated hosting, covering everything from the port speed on the machine to the machine's RAID capabilities.
WestHost Uptime/Downtime
WestHost offers a 99.9% uptime guarantee on shared hosting and dedicated hosting packages. For shared hosting customers, backups are included for free, but backups are a chargeable extra on dedicated servers. Dedicated customers receive credits in the event of a network outage.
VPS and cloud customers' accounts are backed up weekly and monthly. WestHost recommends that users create their own backups in between. There's no uptime promise for these types of services.
WestHost uses a Tier-3 data centre in Salt Lake City, Utah, and rents out space there as part of a colocation programme. The host relies in redundant power, on-site staff, cold row cooling, a VESDA smoke detection and video surveillance to keep customers' data secure. Detailed information about the data centre is available on individual service pages.
WestHost Support
Support is provided 24/7 through a variety of channels. There's a live chat button, a knowledge base and a (fairly sparse) FAQ. I found that some of the published support documentation was quite limited, with a huge amount on cPanel and site builders but not a lot of information on other services.
In addition, customers can use a ticketing system, a US toll-free telephone number and a US number that can be called from other countries. Customers must use the members' area at http://members.westhost.com to log support requests.
Despite WestHost's claim that half its staff speak more than one language, I didn't see any clue as to whether support was provided in any languages other than English.
WestHost in the News
In February 2010, WestHost experienced a major outage when fire prevention chemicals were accidentally released during a routine inspection. Initially the company claimed that downtime would be limited to six hours, but this was revised to six days by the CEO of UK2, Jeff Hunsaker. UK2 employees then edited a Wikipedia page about Inergen, the substance concerned, stating that it could damage hard drives. The disruption prompted the company to move to its current data centre, a different facility from the one the company was using at the time.
Most of the details about the outage are hidden in the members' area of the WestHost website. However, the announcements are mirrored on GetSatisfaction.
https://getsatisfaction.com/westhost/topics/westhost_3_0_outage_details
It's also covered in detail on the Wikipedia website, and the article includes references to the original posts.
http://en.wikipedia.org/wiki/WestHost"
WestHost Control Panel
WestHost's Linux hosting customers receive access to cPanel, and WestHost have their own hosted demo which appears to be up-to-date with the latest version 11.
WestHost Extras
Customers on the Preferred and Business plans receive a free domain name for life. All customers also receive Google/ Yahoo! ad credits with a total value of $100, and there's a referral programme that pays $25 per new customer referred. WestHost also has its own affiliate scheme which pays out $100 per new sign-up.
Softaculous is included on shared hosting plans, as is an online website building tool, giving clients several routes to creating a website quickly. A second website builder, DropClick, is available for an additional monthly fee.
WestHost Money Back Guarantee / Cancellation Policy
WestHost provide users with a 60-day money-back guarantee, which is more than host hosts offer, although more expensive plans are excluded: cloud, reseller and dedicated hosting customers can't use it. Domain registration and transfer fees are not included in the money-back guarantee. There's no clause in the Terms of Service that states how accounts have to be cancelled.
WestHost Summary
WestHost has the backing of a massive hosting company, and its focus on business means there's plenty of technical information to help you make the right hosting choice. While the knowledge base is a little underwhelming (887 cPanel articles vs 9 FAQs, for example), the company clearly has a commitment to providing great support via other means. It's just a shame the documentation isn't as good as it could be.
The huge outage in 2010 may have put some customers off WestHost, but the company has relocated since, so there's no reason to be worried by its patchy uptime history.
As it stands, WestHost has most small business needs covered. Even though shared hosting is a little pricier than elsewhere, the 60-day money-back guarantee gives customers plenty of time to give it a try and see if it's worth the extra cash.
---